How Many Civil Engineers Are There? (2023)
Civil Engineers are needed all over the world to design infrastructure such as hospitals, roads, stadiums, water dams but also housing for people to live in. 🏗️🏗️
So how many Civil Engineers are there? 👷👷
There were 307570 employed Civil Engineers in the US in 2022, 92600 in the UK. In 2012 the Philippines had over 120000 registered Civil Engineers, while in Europe approx. 1736800 people worked in the Civil Engineering industry.
Civil Engineering Statistics (Top Picks)
There were 307570 Civil Engineers employed in the US in May 2022
Over 270000 people worked in the civil engineering industry in Germany in 2020.
Projected growth for civil engineering work is 7% from 2021 to 2031 in the US
Canada expects 26100 new job openings for Civil Engineers from 2021 to 2031
The mean annual wage in the US is $97,380 (May 2022)
Sources: U.S. Bureau of Labor Statistics, statista.com, Job bank (Government of Canada)
How Many Civil Engineers Are There In 2023?
There is unfortunately not a number for how many civil engineers there are worldwide.
The reason for this is that many countries don't gather or publish that data.
But the country with most civil engineers that we could find is the US with over 300000 Civil Engineers.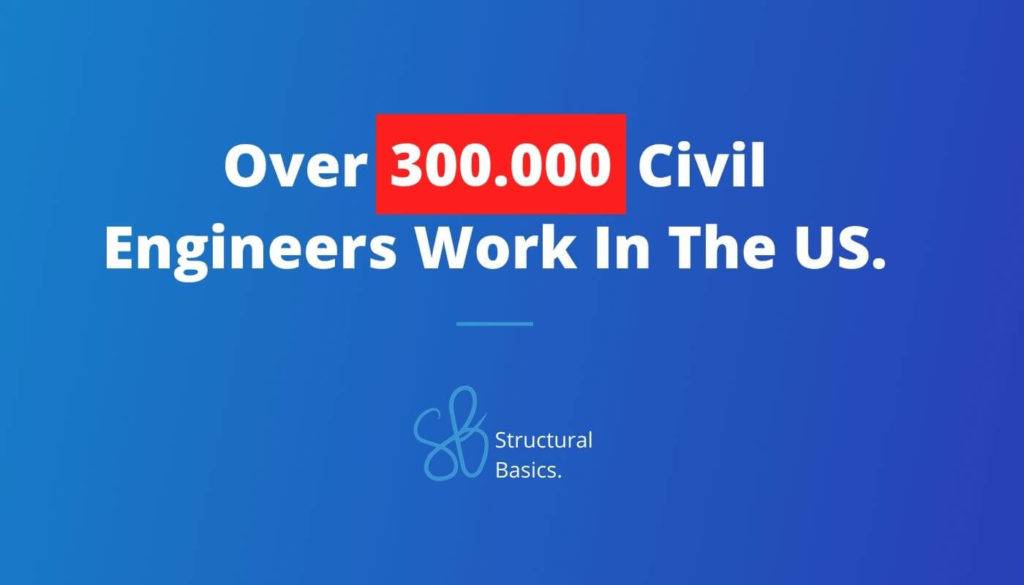 We summarized the number of civil engineers for the countries we found data for in the next table. 👇👇
Number Of Civil Engineers By Country
*1 = Graduated in Civil Engineering
*2 = People who work in the Civil Engineering industry
Conclusion
There are many civil engineers designing, building and managing infrastructure of the countries we live in.
As most countries are expected to grow economically and population-wise, the demand for civil engineering work is also expected to grow.
Good times ahead for us Civil Engineers. 😎😎
You might also like